Google Pixel 5 deals, trade-in prices and availability at Verizon, T-Mobile, AT&T, and Best Buy
We may earn a commission if you make a purchase from the links on this page.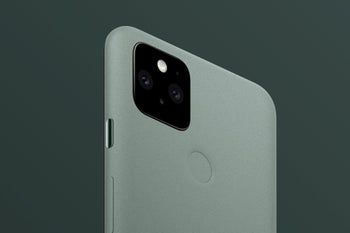 Google
just went back to its Nexus phone line roots with the upper midrange price and specs for the
new Pixel 5
. Remember the Google Nexus series? It was just the sweetest thing to watch manufacturers like
Samsung
,
LG
, or HTC taking turns to make Google's phones and sell them at or near cost to expand the market.
For just $699, the Pixel 5 carries a Snapdragon 765 chipset with
5G
connectivity, a 12MP main and 16MP ultrawide angle cameras, a 6.01-inch OLED display, 8GB of RAM and 128GB of base storage, plus a finally decent 4000mAh battery capacity, not bad at all. Can you get it for less, though?
Google Pixel 5 price and preorder deals at Best Buy
$649 with activation, $599 for the Sprint/T-Mobile model
Needless to say, Best Buy is running its typical $50 discount with activation on
Pixel 5
carrier models, too, and you can pre-order yours below. The best part? Best Buy is only offering the unlocked version for activation now, so you can grab one that
will work on all US carriers out of the box
for $50 less than what Google or Verizon charge. You save $100 if you get a new line or new account with Sprint.
Google Pixel 5 price and preorder deals at Verizon
Price: $699, up to $550 with a trade-in
Ship date: by November 4
While Google is not releasing the
Pixel
5 before October 29 on Verizon, you can still preorder it right now, and knock up to $550 off its $699 price with a suitable trade-in. Or, you can get the Pixel 5 for $29.16/month with a two-year contract. Here are all Verizon deals on the Pixel 5:
Get up to $550 when you purchase a Google Pixel 5 with trade-in and a new line with a Play More, Do More or Get More Unlimited plan.
Get a $250 Verizon eGift Card when you purchase a Google Pixel 5 and port-in a new line with a Play More, Do More or Get More Unlimited plan.
Get $350 when you trade-in an eligible device to upgrade to a Google Pixel 5 on a Play More, Do More or Get More Unlimited plan.
Purchase a Google Pixel 5 or Google Pixel 4a 5G UW and activate new subscriptions to get 3 months free of YouTube Premium, Stadia Pro and Google Play Pass.
Google Pixel 5 price and preorders at AT&T
AT&T simply announced
that it will carry both the Pixel 5 and the
Pixel 4a 5G
"this fall," without bothering with the actual Pixel 5 and Pixel 4a 5G price or release date announcement
for now.


Google Pixel 5 at T-Mobile
T-Mobile hasn't even done what AT&T just did by teasing us its Pixel 5 and Pixel 4a 5G availability, let alone pricing. It's been reluctant to
host Pixel phones on its website
in the spring right around when we thought that the 4a launch is near before the coronavirus postponed the Google I/O event, so we'll probe T-Mobile whether it will carry the Pixel 5 at some point.
Right now, your best bet to get the Pixel 5 on T-Mobile is at Best Buy if you are a legacy Sprint customer, just go to Best Buy and choose Sprint as a carrier, and you will get the Oixel 5 for mere $599.99 instead of the retail $699.99.

Pixel 5 price and deals at the Google Store
Price: $699 for 128GB, up to $555 off with a trade-in
150 Google Play Points for apps and games
3 months of YouTube Premium free
Google One (100GB cloud storage)
Stadia Pro
If you are looking at the most obvious place to get the Pixel 5, the Google Store is a decent bet, as it offers free two-day shipping and trade-in deals which, however, is slightly less generous than what you'd find on carrier websites or at Best Buy, for instance. Plus, Google isn't bothering with any "ship by" dates for now.
Pixel 5 price at Google Fi

Needless to say, you can get the Pixel 5 through Google's virtual Fi carrier that piggybacks on the big US networks and it will work like a charm there. Unfortunately, Google Fi is offering it for the same price as anywhere, or $699, but you do get the plan deal that is only $17/month per line for three of those, and $10 per GB used, or unlimited data for $50 each.



Where and when will Google Pixel 5 be released?
For now, you can order the Pixel 5 from the Google Store in Australia, Canada, France, Germany, Ireland, Japan, Taiwan, the United Kingdom, and the United States. The shipping date varies, though, as Google isn't even listing it in its own store. It should be October 29, making it a month between the announcement and release date of the Google Pixel 5, yet Verizon, for instance, warns that the phone will ship "by November 4" if you order it now.